HydraFacial in Royal Oak, MI
HydraFacial uses a unique, patented Vortex-Fusion delivery system to exfoliate, extract and hydrate skin, and, the spiral design delivers painless extractions.
The Treatment
>Benefits and Results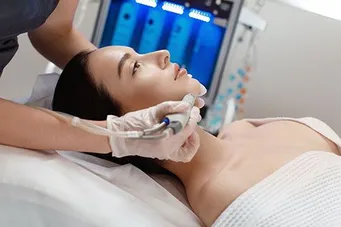 While it is recommended that most patients have HydraFacial™ treatments at regular intervals to promote the most successful, long-term results, patients who elect for a single session are generally pleased to see an immediate difference in overall skin brightening, cleansing, and hydration.
Regularly scheduled HydraFacial™ treatments have been proven to reduce the appearance of brown spots, redness, clogged pores, fine lines around the mouth and eyes, as well as wrinkles. Where chemical peels commonly leave a patient's face feeling raw, sore, or tingling for a significant amount of time following treatment, patients who elect HydraFacial™ report feeling refreshed after receiving treatment and do not experience any notable negative side effects. HydraFacial™ is a treatment option that is safe and effective on all skin types.
If you are looking for fresher, cleaner skin schedule an appointment for a HydraFacial by contacting Koger Dermatology at (248) 435-6622 Today!
Before & After Brown Spots
Before & After Oily Congested

Before & After Fine Lines