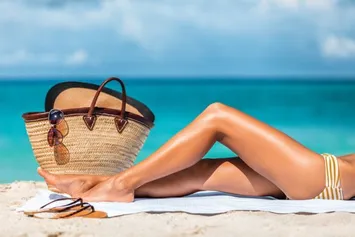 The Benefits
Curious as to why this treatment is suddenly everywhere? According to Dr. Patel, the popular facial helps remove the top layer of skin with mechanical exfoliation, which essentially tricks the skin into thinking it is wounded. The result? Collagen production significantly improves, resulting in smoother, moisturized, and younger-looking dermis. As with any in-office treatment, eliminate the risk of a bad reaction by seeking out a professional skilled in this application- whether that be a dermatologist or a highly-rated esthetician. "If performed too aggressively, it can result in skin damage and hyperpigmentation," Dr. Patel warns.
The Best Candidate for a Hydra-Facial
While a hydra-facial is the best for those with dry skin, Dr. Patel says that anyone can enjoy a benefit from one. That being said, the exfoliation portion must be performed with the utmost care on those with sensitive dermis, she continues, to prevent extensive redness or irritation. That's not to say those with delicate complexions can't experience the treatment-after all, the final serum traps moisture and repairs the barrier, which is especially beneficial for those with sensitive or moisture-depleted skin.
---
Botox
Is a unique cosmetic treatment to improve the appearance of frown lines and crow's feet by targeting the muscles that cause them. We inject Botox into the targeted muscles to produce temporary, localized muscle relaxation. It is minimally invasive and no recuperation time is required. The areas treated last from 2-6 months. The average time of effectiveness is 3-4 months.
Laser Hair Reduction
We utilize the Diode and ND-YAG Lasers for the permanent reduction of unwanted hair. The laser energy targets the pigment in the hair-root, which results in hair follicle destruction. This non-invasive technique safely removes unwanted hair from virtually all parts of the body on individuals with fair to dark skin tones. Common areas of treatment are legs, bikini lines, upper lip, underarms and back. It's especially helpful for those who suffer from razor bumps.
Juvederm
Juvederm is a newly approved soft tissue filler that is made of Hyaluronic acid, which exists in all living organisms. Hyaluronic acid has the bility to bind water in the tissue; however, as the amount of Hyaluronic acid decreases with age the skin looks older, less elastic and less resilient. Juvederm adds volume to the lips, cheeks and chin, making them look fuller.
Microdermabrasion
We utilize the Diamond Tome System for microdermabrasion which resurfaces the skin without use of crystals or other abrasives that may cause burning, irritation and skin reactions. The Diamond Tome will produce the appropriate amount of exfoliation to produce smoother, healthier and firmer looking skin, with a mroe even skin tone. A series of treatments can produce skin with fewer fine lines, age spots and less acne scars.
Chemical Peels
These therapeutic acids applied topically to the skin help with acne, aging skin, scarring, and pigment problems.
Chemical Peels or exfoliation, involves the application of a chemical to the skin to cause mild destruction of the surface of the skin. The healing process occurs in a controlled manner and may result in reduced scars, wrinkles, correction of pigmentation irregularities and decrease in sun damage. Acne is also effectively treated. Chemical peeling works by causing partial destruction of the upper layers of skin. New collagen grows on the skin, resulting in a smoother, more refined skin tone.
Sculptra
Not an overnight miracle. Long lasting. Not a quick-fix. The first facial injectable that gives you subtle results over time. Replacing lost collagen. Giving you a more natural-looking appearance, without giving you away.
Radiesse
The best solution for erasing lines and folds is to replace lost structure with immediate volume. RADIESSE® Volumizing Filler works immediately so the results are instant. Once injected, RADIESSE Volumizing Filler adds the volume and lift needed to diminish the signs of aging.
Micro-Needling
Microneedling is a procedure where a roller device with a varying number of needles of varying length is rolled over the skin. The intent is to generate thousands of microscopic holes of injury where new skin will be regenerated. Regeneration of new skin can improve the texture tone and appearance of the skin.
HydraFacial uses a unique, patented Vortex-Fusion delivery system to exfoliate, extract and hydrate skin, and, the spiral design delivers painless extractions.
WHAT IS VORTEX-FUSION TECHNOLOGY?
The spiral design of HydroPeel® Tips, used in conjunction with the HydraFacial proprietary vacuum technology and serums, creates a vortex effect to easily dislodge and remove impurities while simultaneously delivering hydrating skin solutions.
*3 STEPS. 30 MINUTES.*
THE BEST SKIN OF YOUR LIFE.
Only HydraFacial uses patented technology to cleanse, extract, and hydrate. HydraFacial super serums are made with nourishing ingredients that create an instantly gratifying glow in just 3 steps:
CLEANSE + PEEL
Uncover a new layer of skin with gentle exfoliation and relaxing resurfacing.
EXTRACT + HYDRATE
Remove debris from pores with painless suction. Nourish with intense moisturizers that quench skin.
FUSE + PROTECT
Saturate the skin's surface with antioxidants and peptides to maximize your glow.
WHAT SETS HYDRAFACIAL APART FROM OTHER HYDRADERMABRASION PROCEDURES?
HydraFacial uses a unique, patented Vortex-Fusion delivery system to exfoliate, extract and hydrate skin, and, the spiral design delivers painless extractions.
Contact the Cosmetic Dermatologist at Koger Dermatology to see what skincare treatment options are available to you!
Call (248) 435-6622 for an appointment Today!